Alias -
Kodiac Ebenezer Diaz
*Calling -
Kodi, Kod
Gender -
Female
Cycles -
1 1/2 year(s)
Breed -
Chinook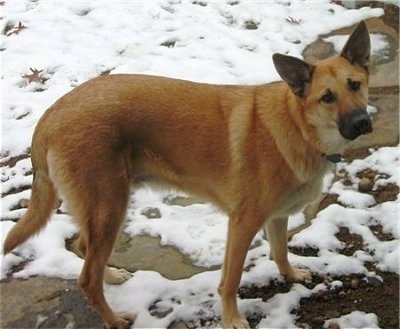 Pelt -
Tan top, black ears, and a soft cream underside
*Eye Colour -
Caramel
Position/Team# -
Any/ lead dog or swing dog
Personality -
Very dedicated to her work and loves humans, very friendly to other canines but will not be sweet if there are slackers on her team. Kodi is a respectful dog if she isn't lead canine but will still take her anger out on anyone who falls behind or gets lazy with their posture.
History -
Her owners bred her from UKC purebred Chinook couplelet, completely tame but is well fit to survive without her humans. Strongest pup in a litter of 6 she was the one who bullied her smaller siblings around, weining her at a short 2 weeks she was bred for power and cunning.
*Reaction Towards Other -
Friendly most of the time, snappy if she is pulling a sled though. Rough and tough bitch, doesn't take lightly to slackers.
*Notes -
Has a bad attitude once angry or infront of the sled
Spayed :
Nope, good genes make good puppies =P
WAFFLE HOUSE